Uses:
Protects cats against Fleas, ticks (Black-legged/Deer ticks, American dog & Gulf coast ticks), roundworms, hookworms, ear mites and prevents heartworm infections.
Doses:
1 Dose/Pipette = 1 Month
Revolution Plus
In Stock,
Price Starting From:
$41.21
Revolution Plus for Kittens and Small Cats 2.8-5.5lbs (1.25-2.5Kg) Yellow
Pack Size
Quantity
Sale Price
Revolution Plus for Medium Cats 5.5-11lbs (2.5-5Kg) Orange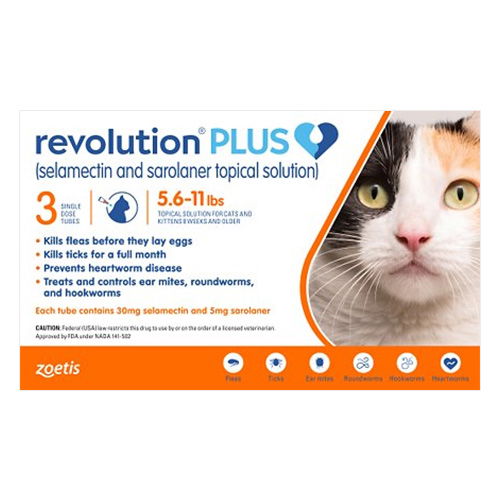 Pack Size
Quantity
Sale Price
Revolution Plus for Large Cats 11-24lbs (5-10Kg) Green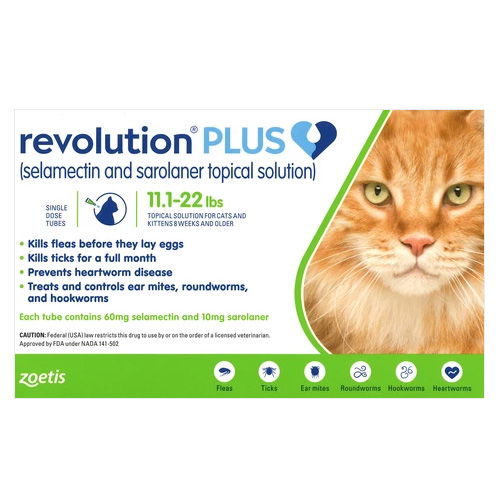 Pack Size
Quantity
Sale Price
Description
Revolution Plus 6-in-1 Protection for Cats
Revolution Plus is an advanced and brand new product designed specifically for cats and kittens above 8 weeks. This potent monthly topical treatment has as many as 6 uses; kills fleas, ticks (Black-legged/Deer ticks, American dog & Gulf coast ticks), roundworms, hookworms, ear mites, and prevents heartworm infection. It also helps in reducing the signs of Flea Allergy Dermatitis (FAD). Adult fleas are erased within 6 hours, and it also cleans up flea eggs and larvae and can eliminate fleas before they can lay eggs.
How does it work?
Revolution Plus is made up of two key ingredients; Selamectin and Sarolaner. Both these ingredients absorb into the cat's skin and enter through its bloodstream. Together, they begin eliminating fleas within 6 hours and ticks within 24 hours of its administration. It prevents heartworm from developing and effectively treats and controls hookworms and roundworms along with ear mites.
Key Benefits
6-in-1 topical treatment for cats and kittens
Kills fleas within 6 hours
Effective against 3 types of ticks; Black-legged/Deer ticks, American dog & Gulf coast ticks
Prevents heartworm infections
Gets rid of roundworms and hookworms
Treats ear mites
Reduces Flea Allergy Dermatitis
Safe for kittens over 8 weeks
Directions
Dosage and Administration
The recommended minimum dosage is 2.7mg selamectin per pound (6mg/kg) of body weight and 0.45 mg sarolaner per pound (1mg/kg) of body weight.
Administer the entire contents of single tube (or two tubes in combination for cats weighing over 22 pounds) of Revolution Plus for Cats topically in accordance of the below table:
Body Weight (lbs)

Tube Cap Color

Tube Volume (ml)

Tube Contents

Selamectin (mg/tube)

Sarolaner (mg/tube)

2.8 – 5.5

Gold

0.25

15

2.5

5.6 – 11

Orange

0.5

30

5

11.1 – 22*

Green

1

60

10

*Cats over 22 lbs. should be treated with the appropriate combination of tubes.
Safety
Store product in a cool and dry place.
Keep it away from children's reach.
Wash your hands thoroughly after using.
It should be applied on the skin surface only.
More Info
| | |
| --- | --- |
| Target species | Cats |
| Mode of administration | Topical |
| Active Ingredients | Selamectin and Sarolaner |
| Brand Name | Revolution |
FAQ
What is the difference between Revolution Plus and Revolution?
Revolution Plus provides 5 in 1 protection to cats. The topical treatment provides additional protection against ticks, too.
What Parasites does Revolution Plus work against?
Revolution Plus broadens the scope of protection for cats and kittens. It protects against fleas, ticks, ear mites, roundworms, hookworms, and heartworms.
Is Revolution Plus safe to use for pregnant or nursing cats?
The safe use of Revolution Plus has not been established in kittens less than 8 weeks old or in breeding, pregnant or lactating cats.
How do I apply Revolution Plus to my cat?
Applying Revolution Plus to your cat is as simple as 1-2-3.
Press the cap to puncture the seal. Remove the cap and ensure that the tip is open.
Part the fur at the base of your cat's neck and touch tube tip to visible skin. Squeeze tube 3 or 4 times in one spot.
Keeping the tube squeezed, glide it along the skin and away from the liquid, and then lift off. Ensure the tube is empty before throwing it out.
What are the side effects of Revolution Plus for Cats?
The most common side effects reported in clinical trials were temporary loss of appetite and drowsiness. No side effects were noted when Revolution Plus was used along with commonly used veterinary products.
Still Have Questions? – Please email us your queries at support@canadavetexpress.com and we will be happy to help you.
Sharolyn Wood
Lori Nelsen
Great Product
Ozzy is a big boy and needs alot of protection. I have used this for years and will keep using it.
Kathy Murray
Great product
It works and it keeps all the bad things away! Fast service, fast delivery!
Steve Pritchard
Great product
Finally, we have something that actually works on fleas! Other products worked for a few days and our cats were back to scratching. This product knocks them out and keeps working.
john bespiaty jr
a+
great prices-good product ---you make it easy
Have A Question?
Is this product Good for getting rid of mange?
Is plus a good idea for old cat with Renal and Thyroid disease