Brand:
Nexgard Spectra Chewable Tablets
Uses:
Heartworm disease prevention, fleas, ticks and gastrointestinal worm treatment.
Nexgard Spectra Chewable Tablets
In Stock,
Price Starting From:
$39.67
Nexgard Spectra Chewable Tablets for XSmall Dogs 4.4-7.7 lbs (Orange)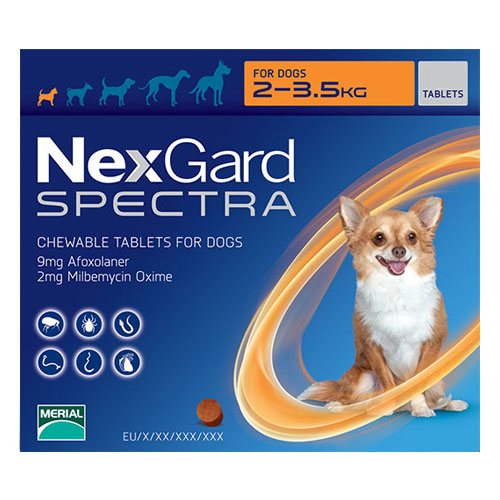 Pack Size
Quantity
Sale Price
Nexgard Spectra Chewable Tablets for Small Dogs 7.7-16.5 lbs (Yellow)
Pack Size
Quantity
Sale Price
Nexgard Spectra Chewable Tablets for Medium Dogs 16.5-33 lbs (Green)
Pack Size
Quantity
Sale Price
Nexgard Spectra Chewable Tablets for Large Dogs 33-66 lbs (Purple)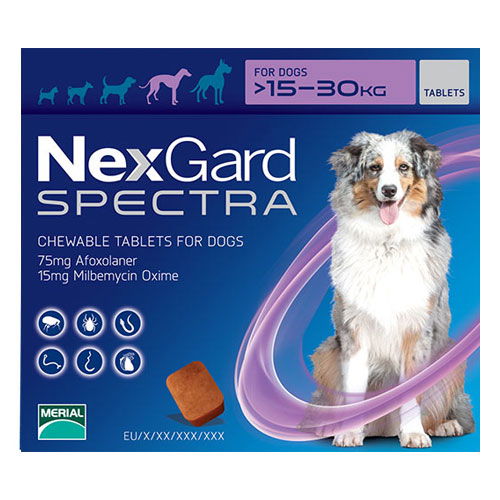 Pack Size
Quantity
Sale Price
Nexgard Spectra Chewable Tablets for Xlarge Dogs 66-132 lbs (Red)
Pack Size
Quantity
Sale Price
Description
NexGard Spectra – A Broad Spectrum Treatment for Dogs
NexGard Spectra is an advanced treatment for controlling fleas and ticks on dogs. The highly palatable beef-flavored chew also treats and prevents gastrointestinal worm infestations. The oral treatment controls flea infestations in dogs for 5 weeks and ticks infestations for 4 weeks. It rapidly kills fleas as well as ticks, including brown dog ticks, bush ticks, and the deadly paralysis ticks. NexGard Spectra also kills various mites and controls demodectic mange (caused by Demodex spp.), sarcoptic mange (caused by Sarcoptic mites), and otodectic mange (caused by ear mites). Moreover, NexGard Spectra is also effective in the prevention of heartworm disease with a regular monthly dosage. This all-in-one tasty chew also controls mites and prevents flea tapeworm infestations by controlling ticks.
How does NexGard Spectra work?
NexGard Spectra is a new way of treating flea and tick infestations in dogs. Its active ingredients kill fleas before they lay eggs and treat other common parasites quickly. One of its key ingredients - Afoxolaner directly attacks nerve cells, resulting in paralysis and eventually killing them. The rapid action of Afoxolaner kills fleas preventing the maturation of immature stages of tapeworms and thus controlling flea tapeworm infestations. The other ingredient, Milbemycin oxime, kills parasites like nematodes that live inside the body of animals. Nexgard Spectra is recommended for dogs and puppies from 8 weeks of age, providing they weigh at least 4.4 lbs.
Important Note: Please consult your vet before buying this product. Dogs with a history of seizure should only be treated after consulting a vet.
Key Benefits
All-rounder monthly treatment for dogs
Comes in a highly palatable beef-flavored chewable
Single treatment that kills both internal and external parasites
Rapidly kills fleas
Treats and controls brown dog ticks, bush ticks, and the deadly paralysis ticks
Effective against gastrointestinal worms like roundworms, hookworms, and whipworms
Effectively prevents heartworm disease
Treats and controls three of the most common mites: Demodex mites, Sarcoptic mites, and Ear mites
Prevents flea tapeworm infestations
Aids in the control of flea allergy dermatitis
Directions
Weigh your dog before starting the treatment
NexGard Spectra is available in different pack sizes according to dog weights
Provide it directly into the mouth or mix it with food
Safety
Wash hands after use.
For veterinary use only.
Keep out of sight of children and pets
Do not use in breeding, pregnant and lactating dogs.
Contraindications
Not suitable for dogs hypersensitive to this product ingredients
Do not treat cats with Nexgard Spectra
More Info
Ingredients
Afoxolaner & milbemycin oxime
FAQ
Does Nexgard Spectra treat Tapeworm And Lungworm?
Nexgard Spectra is recommended to prevent lungworms in dogs, making it the only product that deals with lungworms and ticks, fleas, and roundworms. However, it does not treat tapeworms.
Is Nexgard Spectra Safe For Dogs?
Clinical records show that 98% of treated dogs show no to least side effects. In some rare cases, side effects such as vomiting, itching, lethargy, diarrhea, and loss of appetite are seen in dogs. Moreover, dogs with a history of seizures should not be treated without the vet's advice.
How is Nexgard Spectra different from Nexgard?
Nexgard kills both fleas and ticks and protects your dog for the whole month against flea and tick infestations. Nexgard Spectra kills both fleas and ticks as well as protects against heartworms. It also treats intestinal worm infections.
Is Nexgard Spectra safe for pregnant dogs?
The safe use of Nexgard Spectra in pregnant dogs has not been evaluated yet. So, it is recommended to consult a vet before treating your pregnant dog.
Can I use Nexgard Spectra for more than once?
Nexgard Spectra is potent enough to provide complete protection for a month. So, therefore it is not recommended to treat more frequently than this.
Can Nexgard spectra help to control FAD?
Yes, Nexgard Spectra kills fleas and treats flea infestations. Thus, it reduces the incidences of Flea Allergy Dermatitis.
Still Have Questions? – Please email us your queries at support@canadavetexpress.com and we will be happy to help you.
Anderson
Flea and tick killer
I called it a killer. It wonderfully kills all the nasty parasites and keeps my furry friends healhty and active.
Billie London
My dog eats it with no problem
Easy and seems to be working fine. I like ordering from Canada vet express.
Colleen Henri
Nexgard Spectra chewables
Ordered this for a friend and she swears by it
Christian Haynes
Love Spectra
The best part of this product for me is it kills tapeworms, and takes care of heart worms too. Living in the USA, South and fighting our "Jurassic Park" sized fleas, just injecting a flea can cause nasty tapeworms. So thankful to get this all in one product. Wish we could get it in the States, but happy I can order online. Fast delivery too!
Lorie Pearson
Thank you
I've shopped Canada Vet Express for years and have never been disappointed in the quality, service and shipping. I love the savings too !!!