Uses:
Eliminate fleas and various types of ticks effectively. Also, prevents heartworm in dogs.
Simparica TRIO
In Stock,
Price Starting From:
$50.99
Simparica TRIO for Dogs 11.1-22 lbs (Caramel)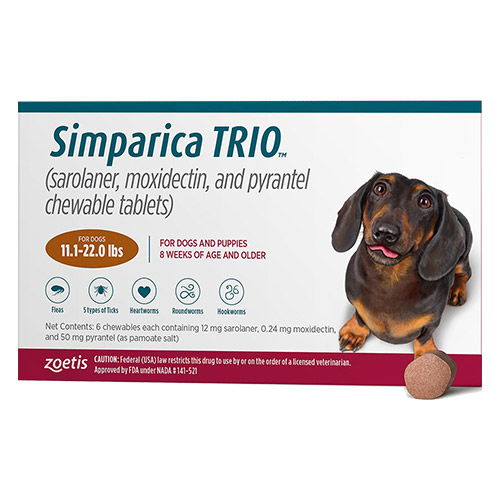 Pack Size
Quantity
Sale Price
Description
Simparica Trio for Dogs
Simparica Trio for Dogs is a highly effective treatment for controlling internal and external parasites in dogs. This product completely eliminates fleas and ticks. Moreover, Simparica Trio also prevents heartworm infection in dogs. In addition, it's also effective against intestinal worms such as roundworms and hookworms. Simparica Trio works on various types of ticks – American dog ticks, brown dog ticks, lone star ticks, deer ticks and gulf coast ticks. This palatable liver-flavored chewable can be used on puppies and dogs above the age of 8 weeks.
How Does it Work?
Simparica Trio consist of three active ingredients – Sarolaner, Moxidectin and Pyrantel. The first ingredient, Sarolaner, assists in killing the fleas and ticks. Furthermore, Moxidectin prevents heartworm disease and Pyranted treats and controls roundworms and hookworms in dogs.
Important Note: Please consult your vet before buying this product. Dogs with a history of seizure should only be treated after consulting a vet.
Key Benefits
Palatable liver-flavored chewable tablets
Eliminates fleas and ticks
Provides month long protection from Heartworms
Recommended for dogs over 8 weeks of age
Kills fleas before they can lay eggs
Directions
Select the pack as per your dog's weight.
The chewable has to be administered directly into your dog's mouth.
Or you can mix it with your pet's food.
Repeat the treatment every month for best results.
For more details, refer to the product label.
Safety
Store the product in a cool and dry place.
This treatment is for animal consumption only.
Ensure you wash your hands thoroughly after handling the product.

Precautions

Not to be used on humans.
Keep it out of reach of children.
The dogs should be tested for heartworms before starting the treatment.
The effectiveness of Simparica Trio hasn't been evaluated on breeding, lactating or pregnant dogs.
More Info
| | |
| --- | --- |
| Target species | Dogs |
| Mode of administration | Oral |
| Active Ingredient | Sarolaner, Moxidectin and Pyrantel |
| Brand Name | Simparica |
Marla Fekete
Great product
I have 3 dogs taking Simparica Trio. It's a great product!
Elia Perez
Awesome
Love this prices and don't need an RX
Barbara Meredith
Excellent
First time using but hear from many that it works as described. Great to just have 1 med for both fleas/heartworm! Product was shipped quickly at a great price!
Sarah Adams
The Best Ever-
I have tried so many medications without success. I have paid for expensive vet visits and still couldn't control pests. We live near the woods, and we were miserable fighting fleas, ticks, and worms. We tried this medicine one time and our problems were gone. It is absolutely amazing. It gave our family and pets our quality of life back.
Wendy Duckett
W. Duckett
The product is a great product, however, my shipment was received and both boxes were crushed.
Have A Question?
Is the packaging supposed to be different then advertised?
Does this product eliminate the need for Heartworm pills?